Word Search Puzzles

A favorite among corporate newsletter publishers, word search puzzles are also a favorite among puzzle solvers.

The puzzle consists of a box or table filled with letters that attempt to hide words contained in the maze. It is up to the solver to find and circle the hidden words, which can be entered in the puzzle either horizontally, vertically, backwards, or on an angle. These puzzles are usually themed - the words have a relationship to one another, such as names, places, items, products, etc.

One use of word search puzzles is as a contest puzzle for your readers. The person with the most correct words found wins a prize - maybe a free dinner at an advertiser's restaurant, a gift certificate at a local movie theater, or ....?

Word search puzzles can be created in almost any size imaginable.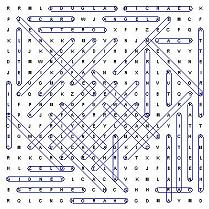 To order puzzles
for your publication,
please call us at

775-265-5083

or email us at

sales@puzzlejunction.com