Crosswords

Puzzle Junction Crosswords are the Best Sellers in our line of products. Everyone loves crossword puzzles, so they add a distinguishing signature to your publication. By including a crossword in your publication, you are giving your readers an additional reason to keep coming back!

Our crosswords are available, either themed or unthemed, in a variety of sizes:
Small - A 13x13 grid size that is smaller than the average daily newspaper size crossword and includes approximately 65-70 clues.
Daily - A 15x15 grid size used regularly in daily newspapers that includes approximately 75-80 clues.
Sunday - A 21x21 grid size that is usually found in the Sunday editions of newspapers. This crossword includes approximately 145-160 clues.
Other sizes are also available upon request. In addition, Puzzle Junction offers a number of crosswords in different sizes and shapes other than those listed above, such as a tree for a Christmas edition or a heart for a Valentine's Day edition. These puzzles require longer lead-time than regular crosswords, so be sure to place your order well in advance.

Crossword skill level - Easy, Medium and Expert - is usually determined by a publication's readership, or it's target audience. That is not to say that a particular readership or group of people can only do a certain level of puzzle, but that your particular publication may be designed for a casual solver or a literary audience, or somewhere in between. Putting an expert puzzle in a publication designed exclusively for advertising local businesses would take too much time away from the reader's perusal of the ads; and placing an Easy crossword in a literary magazine would most likely annoy the readers. So ask us - we can help you choose the skill level for your particular publication.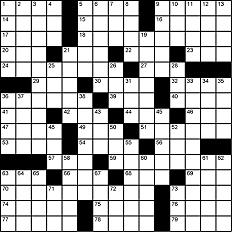 Click here for printable
15x15 sample crossword
To order puzzles
for your publication,
please call us at

775-265-5083

or email us at

sales@puzzlejunction.com