Sudoku Puzzles

Sudoku is now the rage!

The puzzle consists of a 9x9 grid with 9 3x3 boxes. It is up to the solver to fill in the grid so that every row, every column, and every 3x3 box contains the digits 1 through 9. There is no math to do. It is simply a logic problem.

The numbers already in the grid cannot be moved or deleted - the solver must work around them in order to successfully complete the puzzle.

Sudoku puzzles can be created in varying degrees of difficulty, and can also be created as interactive puzzles for web sites.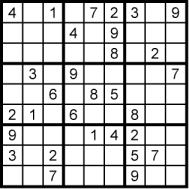 To order puzzles
for your publication,
please call us at

775-265-5083

or email us at

sales@puzzlejunction.com